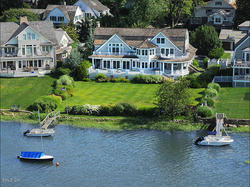 Old Greenwich Real Estate
Old Greenwich is the oldest hamlet in the Greenwich area and directly borders the neighboring town of Stamford. Old Greenwich has its own zip code, library, fire, and train stations. It also has its own downtown area full of great restaurants and unique shops. The quaint coastal neighborhood has two of the more well-known parks in Greenwich- Binney Park, and Greenwich Point, or Tod's Point, Park. Residences in Old Greenwich are mostly medium-size (3 to 4 bedrooms) single family homes. The exquisite waterfront landscape and direct access to the Post Road and 1-95 makes the community perfectly suited to all ages, singles and families alike.
Browse through all real estate listings in Old Greenwich, CT below. Search through a variety of listings including luxury homes, modern homes, condos, homes with water views and more. If you are interested in touring any of these beautiful properties, contact us. Our agents have the best experience and knowledge of the Old Greenwich and Fairfield County communities. You can also create an account to save all of your favorite properties and receive email alerts when new listings come onto the market.
Old Greenwich was founded in 1640 by Jeffrey Harris after he purchased the land from the Siwanoy Indians. Elizabeth Fones Winthrop, the niece and daughter-in-law of John Winthrop who founded the Massachusetts Bay Colony, was another founding settler of the Old Greenwich area.
Tod's Point is one of Old Greenwich's most distinctive features and is public to all Greenwich residents. The park is at the end of a peninsula, extending southwest of downtown Old Greenwich. It was originally the private estate of J. Kennedy Tod. On his 147 acre piece of land Tod built a glorious estate with a personal mansion and other buildings for those who worked on his property.
Tod and his wife left the property to Columbia Presbyterian Hospital, who later sold the land to the Town of Greenwich in 1939. The park now spans over 150 acres and provides gorgeous beaches, waterfront views, miles of walking paths, a sailing club, and BBQ pits for the community to enjoy.
Average Sale Price Full Year 2013: $1,753,566
Median Sale Price Full Year 2013: $1,593,750